Nepal is the one of the excellent places in the world for white water rafting and kayaking. We offer outstanding river journeys ranging from big-volume classic wilderness expeditions to steep, adrenaline action-packed river runs. Boasting a subtropical climate with pleasant warm waters and fine pristine white sandy beaches add to the unique and special appeal of rafting in Nepal.
Our team is utterly dedicated to safety and all our equipment is of top state-of-the-art quality. We are proud to be able to promote and share our beautiful country with you and safely guide you down some of the best white water rivers of the world. Whether you are looking for adrenalin fused river adventure or a surreal river float surrounded by Nepal's outstanding nature, we can happily make it happen. The memories of a moonrise over the river and the friends you make will give you a delightful experience. River trips are much more then gravity-powered roller coaster rides; they are liquid journeys traversed on very special highways.
Join us and we will give you an unforgettable, once in a lifetime experience.
Founder and owner of Himalayan River Operator Nepal (P) Ltd., Sukra Lama has more than twenty years of highly-skilled international rafting experience in Nepal and Japan. After working for the pioneering and largest rafting company in Nepal as the most professional and senior river guide, he has successfully led over a thousand river expeditions in Nepal and hundreds of river trips in Japan. Sukra has won the title of Himalayan International Rafting Champion and at present, he is the   president of Himalayan River Guide Association Nepal (HRGAN). His exceptional knowledge of paddling in all the rivers of Nepal is extremely hard to beat.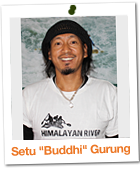 Buddhi Gurung
Director
Buddhi Gurung is one of the owners of the Himalayan River Operator Nepal (P) Ltd and an extremely dedicated lifetime member of the Himalayan River Guide Association Nepal. Buddhi's rafting experience spans more than 20 years covering India, Turkey, Nepal and Japan and has gained unbeatable and unlimited experience in Japan in last seven years. Buddhi's non-stop energy and fun-loving personality always creates a happy and memorable river trip.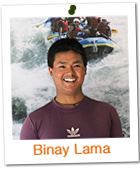 Binay Lama 
Director
Binay Lama is an owner of Himalayan River Operator Nepal (P) Ltd. and a member of Nepal's National Rafting Team. He is recognized for being Champion at the National Rafting Competition held on Bhote Koshi. Binay has been paddling for 13 years in Nepal, Tibet (over 5500 meters high altitude) and Japan. Binay is an extremely talented professional kayaker and river guide as well as an expert rock climber. There is nothing he doesn't know about every rapid, twist and turn in all the rivers of Nepal.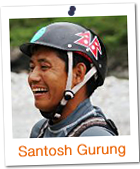 Santosh Gurung

Director
Santosh Gurung, another owner of Himalayan River Operator Nepal (P) Ltd., is an active member of Himalayan River Guide Association Nepal. Santosh has trained and worked in India, Nepal, Bhutan and Japan, paddling for more than 12 years. His professional knowledge in rafting and impressive white water safety kayaker skills is superb. Santosh is an incredibly good cook and can whip up the most delicious of meals in no time.
Mahendra Saru

Director
Mahendra Saru is also another owner of Himalayan River Operator Nepal (P) Ltd. He is the Treasurer of Himalayan River Guide Association Nepal. Mahendra got his expert river skills from 10 years of work in the rivers of Nepal, India and Japan. With his acquired Personal Development Education, Mahendra is very fair to be around and confide at ease. You will find him at the back of the raft, his favorite spot, with a big smile on his face.